CERTFIED MASTERCLASSES
Offering different forms of art techniques, each masterclass is offered by one of our instructors - a team of experienced, certified & well-known artists. Certification of each workshop upon completion of course.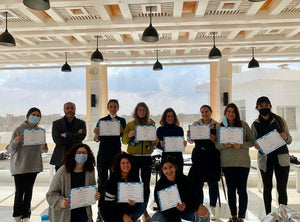 Le Studio
Arkan Branch
Arkan Extension - Gate B Entrance, Fourth Floor (next to Padelit!)
Sheikh Zayed
Opening hrs:
Sat - Thurs, 10 AM - 10 PM
Fri, by appointment
EMPOWERING GENERATIONS
Being the first art studio offering multi disciplinary art, Art Empowers aims to unleash the artist within you, nurturing artists and empowering generations through art.